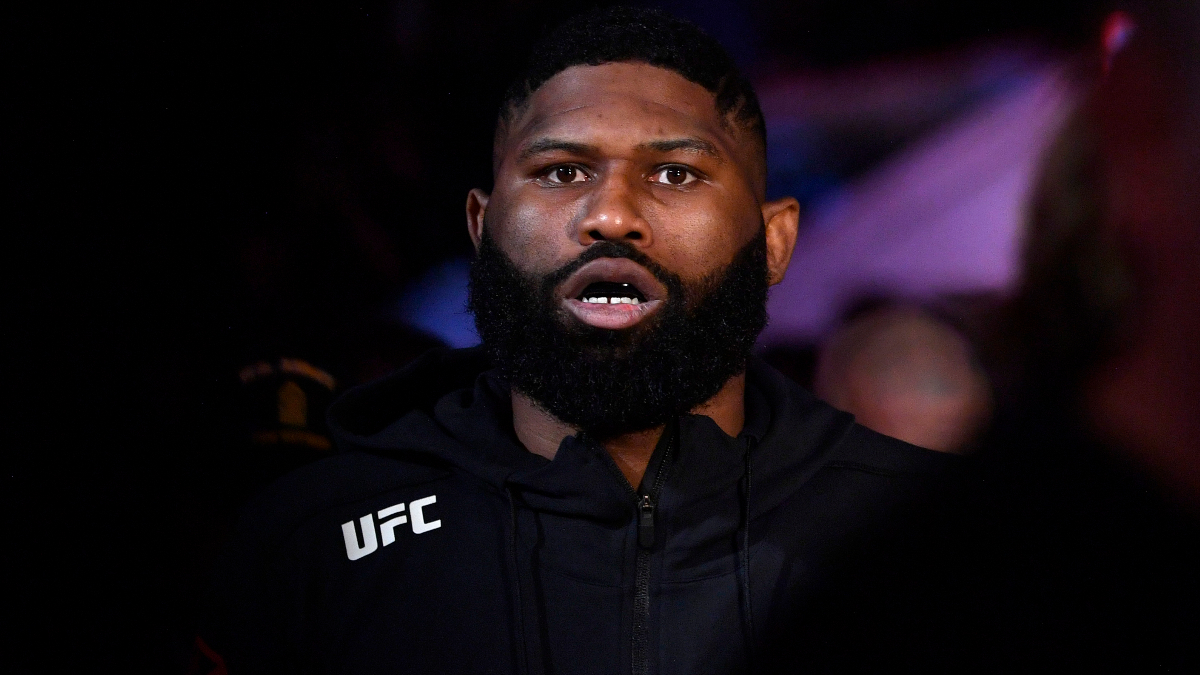 The UFC is back with another stacked Fight Night card this weekend. Saturday's event has 14 scheduled bouts and is headlined by two explosive top-five heavyweights Curtis Blaydes and Derrick Lewis.
The card will being at 5 p.m. ET Saturday on ESPN+ with eight prelim fights followed by a six-bout main card starting at 8 p.m. ET.
You can check out the full list of UFC Fight Night odds for all of the fights on Saturday's entire card below.
---
Odds as of Friday and via DraftKings. Get up to a $1,000 sign-up bonus at DraftKings today or see more offers and reviews for the best online sportsbooks.
---
_BookPromo=49
UFC Fight Night Odds
Preliminary Card
Heavyweight fight: Serghei Spivac vs. Jared Vanderaa
| | Odds |
| --- | --- |
| Spivac odds | -250 |
| Vanderaa odds | +195 |
| Over/Under 2.5 rounds | -121/-112 |
---
Bantamweight fight: Aiemann Zahabi vs. Drako Rodriguez
| | Odds |
| --- | --- |
| Zahabi odds | +150 |
| Rodriguez odds | -190 |
| Over/Under 2.5 rounds | -200/+150 |
---
Featherweight fight: Chas Skelly vs. Jamal Emmers
| | Odds |
| --- | --- |
| Skelly odds | +195 |
| Emmers odds | -250 |
| Over/Under 2.5 rounds | -182/+135 |
---
Women's Flyweight fight: Shana Dobson vs. Casey O'Neill
| | Odds |
| --- | --- |
| Dobson odds | +125 |
| O'Neill odds | -155 |
| Over/Under 2.5 rounds | -250/+180 |
---
Featherweight fight: Nate Landwehr vs. Julian Erosa
| | Odds |
| --- | --- |
| Landwehr odds | -117 |
| Erosa odds | -106 |
| Over/Under 2.5 rounds | -121/-112 |
---
Bantamweight fight: Eddie Wineland vs. John Castaneda
| | Odds |
| --- | --- |
| Wineland odds | +100 |
| Castaneda odds | -125 |
| Over/Under 2.5 rounds | -200/+150 |
---
Lightweight fight: Drakkar Klose vs. Luis Pena
| | Odds |
| --- | --- |
| Klose odds | -177 |
| Pena odds | +140 |
| Over/Under 2.5 rounds | -250/+180 |
---
Featherweight fight: Jared Gordon vs. Danny Chavez
| | Odds |
| --- | --- |
| Gordon odds | +115 |
| Chavez odds | -141 |
| Over/Under 2.5 rounds | -200/+150 |
---
Main Card 
Heavyweight fight: Andrei Arlovski vs. Tom Aspinall
| | Odds |
| --- | --- |
| Arlovski odds | +205 |
| Aspinall odds | -265 |
| Over/Under 1.5 rounds | -167/+125 |
---
Middleweight fight: Phillip Hawes vs. Nassourdine Imavov
| | Odds |
| --- | --- |
| Hawes odds | -125 |
| Imavov odds | +100 |
| Over/Under 1.5 rounds | -125/-106 |
---
Heavyweight fight: Aleksei Oleinik vs. Chris Daukaus
| | Odds |
| --- | --- |
| Oleinik odds | +150 |
| Daukaus odds | -190 |
| Over/Under 1.5 rounds | +115/-155 |
---
Featherweight fight: Charles Rosa vs. Darrick Minner
| | Odds |
| --- | --- |
| Rosa odds | -190 |
| Minner odds | +150 |
| Over/Under 2.5 rounds | +150/-200 |
---
Women's Bantamweight fight: Ketlen Vieira vs. Yana Kunitskaya
| | Odds |
| --- | --- |
| Vieira odds | -278 |
| Kunitskaya odds | +215 |
| Over/Under 2.5 rounds | -335/+233 |
---
Heavyweight fight: Curtis Blaydes vs. Derrick Lewis
| | Odds |
| --- | --- |
| Blaydes odds | -435 |
| Lewis odds | +320 |
| Over/Under 1.5 rounds | -200/+150 |
---
_BookPromo=49