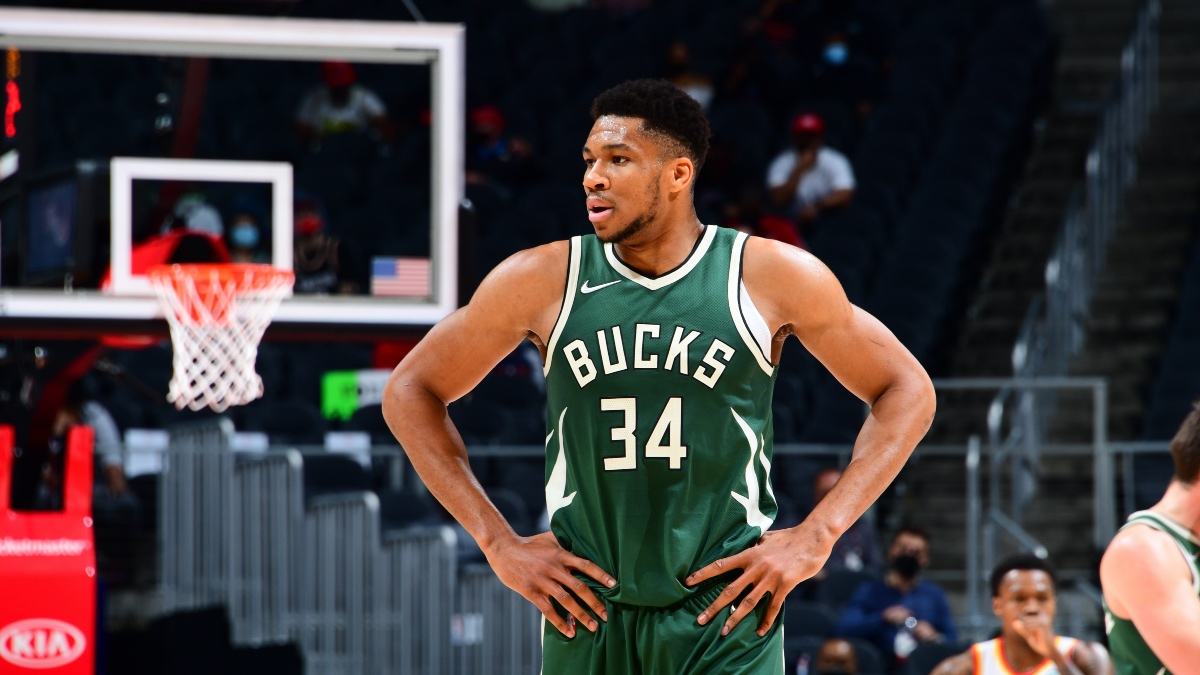 We have a small six-game lineup on Thursday's NBA card, but that doesn't mean our Action Network analysts haven't uncovered three solid plays for your wagering interest.
Our crew is focused on two showdowns, with selections coming in games featuring the Brooklyn Nets taking on Indiana Pacers and the Milwaukee Bucks going up against the Houston Rockets. We have one player prop, as well as two totals featured in the latter showdown.
Let's take a look their detailed thoughts, along with their picks, on the card.
NBA Odds & Picks
Nets vs. Pacers
| | |
| --- | --- |
| Pick | Landry Shamet — Over 2.5 3-PTRS (+125) |
| Book | DraftKings |
| Tipoff | 7 p.m. ET |
| TV | NBA TV |
Brandon Anderson: Landry Shamet is certainly no James Harden, but he's been filling in for Harden as a spot starter with The Beard out, and he hasn't been too terrible.
Shamet has started six of his last eight Nets appearances, and he's playing 32.1 minutes per game during that stretch. The numbers aren't particularly eye-popping, but at 15.0 points and 3.0 assists per game, Shamet has quickly taken to the 3-and-D (defense optional) spot up shooter role the Nets want from him.
During this stretch, Shamet has attempted 7.8 3s per game. That's really why Brooklyn went out and got Landry — his shooting. He's making 2.9 per game over that stretch at 37% behind the arc, and he's still only a couple makes away from 40% for his NBA career on 3s. That's the sort of knock down shooting that makes Brooklyn so deadly, on top of all the stars.
_BookPromo=117
The total on this game is in the 240s and rising, and with Kyrie Irving now out, Shamet should get plenty of minutes and shots up. The most important numbers above are 32.1 and 7.8. With that many minutes and 3-point attempts, a shooter like Shamet is always going to be a great bet to make at least three and hit our over.
Getting plus juice on top of it is all the better. Shamet has averaged more than 2.0 made 3s per game every season of his career, and with the minutes and opportunities up and in a high-scoring game, it makes sense that he'd get one more.
I'll play the over at any plus number.
_BookPromo=821
---
» Return to the table of contents «
---
Bucks vs. Rockets
| | |
| --- | --- |
| Pick | Rockets Team Total Under 109.5 | Under 234 |
| Book | BetRivers |
| Tipoff | 8 p.m. ET |
| TV | NBA League Pass |
Raheem Palmer: The Houston Rockets are 27-34-1 to the under this season for good reason. This has been one of the worst offenses in the league this season, scoring just 106.8 points per 100 possessions in their non-garbage time minutes, according to Cleaning the Glass.
Over the past two weeks they've been even worse, scoring just 101.1 points per 100 possessions. Against a Minnesota Timberwolves defense which is 28th in Defensive Rating (116.5), the Rockets could only muster 107 points on 1.09 points per possession in a game with 103.8 possessions.
I'm having a tough time seeing how this team scores efficiently against a Bucks defense which is 7th in Defensive Rating (111) and has the personnel to stop their best offensive threats in Christian Wood and Kelly Olynyk. Wood is averaging 21.1 points per game on 52.4% shooting while Olynyk is averaging 18.5 points per game on 59.2% shooting.
---
They score most efficiently at the rim where they're in the 88th and 96th percentile respectively. Those numbers are solid but they're facing a Bucks defense with Giannis Antetokounmpo and Brook Lopez which is allowing the 6th lowest percentage field goal percentage at the rim (62.5%).
The Bucks are third in opponent points in the paint at 43.1 per game which doesn't bode well for a Rockets team that generates most of their offense there. The Rockets are 30th in midrange field goal percentage (35.4%) and 30th in three point shooting percentage (33.8%).
Pace is a bit of a concern here as the Bucks play at the 2nd fastest pace in the league this season. However, they've still gone under in three consecutive games against the Hornets, Hawks and 76ers so I think they continue to play solid defense against an abysmal Rockets team that could be missing Daniel House and Avery Bradley, further impacting their offense.
I'll play the Rockets team total under 109.5 as well as the under 234 points.
_BookPromo=406
---
» Return to the table of contents «
---