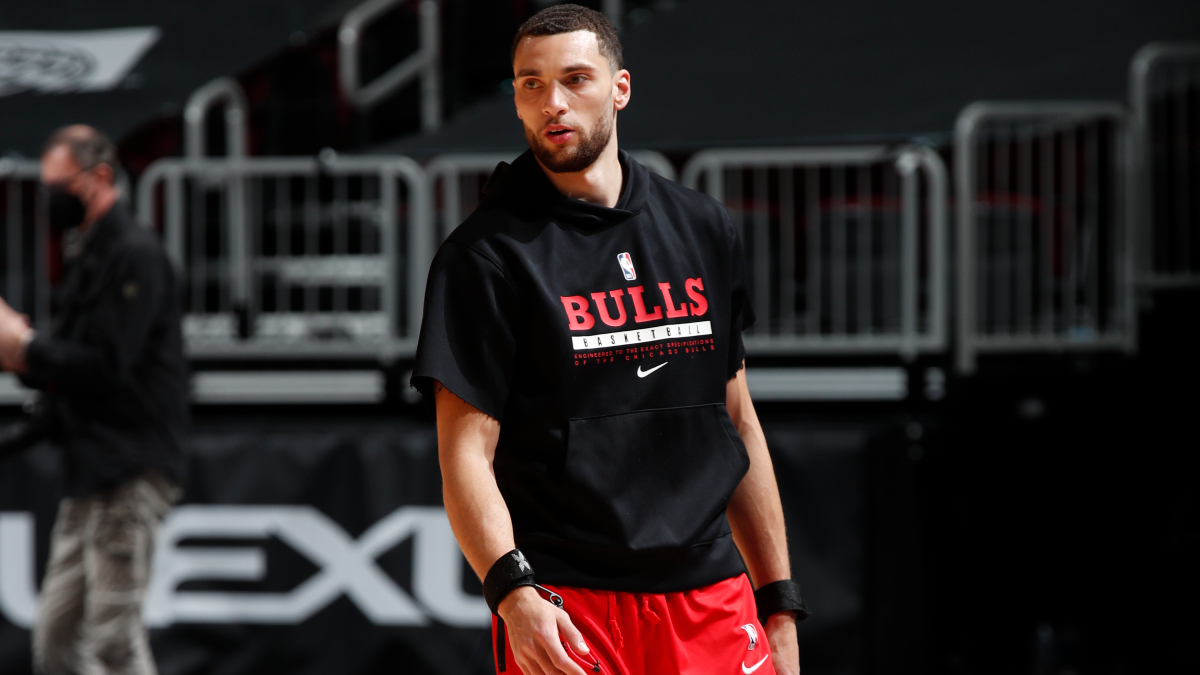 Below are the projected starting lineups for each team playing on Wednesday's NBA slate, along with notable injury news for each squad. For real-time updates to these lineups, check out our Action Labs NBA lineups page.
NBA Injury News
The Utah Jazz will face the Memphis Grizzlies without Donovan Mitchell who missed their delayed flight and is out for personal reasons Wednesday.
Jaylen Brown is listed as questionable again Wednesday after missing the Celtics' most recent game on Monday with a hip injury. Tristan Thompson is still out while he goes through the league's health protocols and Semi Ojeleye remains sidelined as well. With Brown absent on Monday, Robert Williams and Grant Williams both started in the frontcourt.
The Bulls are unsure if All-Star Zach LaVine will be available Wednesday night when they face the Phoenix Suns on the road. Per our NBA Insiders tool:
LaVine didn't do anything physically in practice Tuesday and coach Donovan called him questionable in advance of Wednesday's game. He's still dealing with a sprained ankle which he aggravated in Monday's loss, and Donovan said, "It's not great." Garrett Temple (hamstring) didn't return Monday so it remains to be seen who would start at the off guard if LaVine had to miss time.
John Wall is questionable to play Wednesday due to knee effusion. Kevin Porter Jr. would likely step in to handle most of the point guard duties if Wall has to miss time. Christian Wood is expected to return to the lineup after missing the past two games with an illness.
Be sure to check the Action Labs NBA page for real time updates.
Projected Starting Lineups
Portland Trail Blazers vs. Detroit Pistons (7 p.m. ET)
Trail Blazers Projected Lineup
PG – Damian Lillard
SG – CJ McCollum
SF – Norman Powell
PF – Robert Covington
C – Jusuf Nurkic
Injury news: Nassir Little (thumb) is out
Pistons Projected Lineup
PG – Saben Lee
SG – Frank Jackson
SF – Saddiq Bey
PF – Jerami Grant
C – Mason Plumlee
Injury news: Sekou Doumbouya (migraine) is questionable, Wayne Ellington (calf) is doubtful and Dennis Smith Jr. (back) and Rodney McGruder (elbow) are out
---
Miami Heat vs. Indiana Pacers (7 p.m. ET)
Heat Projected Lineup
PG – Kendrick Nunn
SG – Jimmy Butler
SF – Duncan Robinson
PF – Trevor Ariza
C – Bam Adebayo
Injury news: Kendrick Nunn (Ankle) is questionable, KZ Okpala (health protocols) and Victor Oladipo (illness) are out
Pacers Projected Lineup
PG – Malcolm Brogdon
SG – Caris LeVert
SF – Justin Holiday
PF – Domantas Sabonis
C – Myles Turner
Injury news: Doug McDermott (ankle) and Jeremy Lamb (toe) are questionable
---
Houston Rockets vs. Brooklyn Nets (7:30 p.m. ET)
Rockets Projected Lineup
PG – John Wall
SG – Kevin Porter Jr.
SF – Danuel House
PF – Jae'Sean Tate
C – Christian Wood
Injury news: John Wall (Knee) is questionable; Christian Wood (Illness) and Danuel House (Back) are probable
Nets Projected Lineup
PG – James Harden
SG – Kyrie Irving
SF – Bruce Brown
PF – Joe Harris
C – DeAndre Jordan
Injury news: Landry Shamet is questionable, LaMarcus Aldridge is likely a few games away from making his debut
---
Dallas Mavericks vs. Boston Celtics (7:30 p.m. ET)
Mavericks Projected Lineup
PG – Luka Doncic
SG – Josh Richardson
SF – Dorian Finney-Smith
PF – Maxi Kleber
C – Kristaps Porzingis
Injury news: Nothing new
Celtics Projected Lineup
PG – Kemba Walker
SG – Marcus Smart
SF – Jaylen Brown
PF – Jayson Tatum
C – Robert Williams
Injury news: Jaylen Brown (Hip) and Romeo Langford (health protocols) are questionable; Tristan Thompson (health protocols) and Semi Ojeleye (side) are out
---
Toronto Raptors vs. Oklahoma City Thunder (8 p.m. ET)
Raptors Projected Lineup
PG – Kyle Lowry
SG – Fred VanVleet
SF – Gary Trent Jr.
PF – OG Anunoby
C – Pascal Siakam
Injury news: Paul Watson (health protocols), DeAndre Bembry (health protocols), Patrick McCaw (knee), and Jalen Harris (hip) are out
Thunder Projected Lineup
PG – Theo Maledon
SG – Svi Mykhailiuk
SF – Aleksej Pokusevski
PF – Isaiah Roby
C – Moses Brown
Injury news: Nothing new
---
New York Knicks vs. Minnesota Timberwolves (8 p.m. ET)
Knicks Projected Lineup
PG – Elfrid Payton
SG – RJ Barrett
SF – Reggie Bullock
PF – Julius Randle
C – Nerlens Noel
Injury news: Derrick Rose (ankle) is questionable
Timberwolves Projected Lineup
PG – Ricky Rubio
SG – Malik Beasley
SF – Anthony Edwards
PF – Jaden McDaniels
C – Karl-Anthony Towns
Injury news: Josh Okogie (health protocols) is questionable
---
Utah Jazz vs. Memphis Grizzlies (8 p.m. ET)
Jazz Projected Lineup
PG – Mike Conley
SG – Joe Ingles
SF – Bojan Bogdanovic
PF – Royce O'Neale
C – Rudy Gobert
Injury news: Donovan Mitchell (personal) is out
Grizzlies Projected Lineup
PG – Ja Morant
SG – Grayson Allen
SF – Dillon Brooks
PF – Kyle Anderson
C – Jonas Valanciunas
Injury news: Grayson Allen (Hip) is questionable Justise Winslow (thigh) is out
---
Sacramento Kings vs. San Antonio Spurs (8:30 p.m. ET)
Kings Projected Lineup
PG – De'Aaron Fox
SG – Tyrese Haliburton
SF – Buddy Hield
PF – Harrison Barnes
C – Richaun Holmes
Injury news: Hassan Whiteside (knee) is questionable
Spurs Projected Lineup
PG – Dejounte Murray
SG – Derrick White
SF – DeMar DeRozan
PF – Keldon Johnson
C – Jakob Poeltl
Injury news: Lonnie Walker (wrist) is probable, Trey Lyles (ankle) is out
---
Milwaukee Bucks vs. Los Angeles Lakers (10 p.m. ET)
Bucks Projected Lineup
PG – Jrue Holiday
SG – Donte DiVincenzo
SF – Khris Middleton
PF – Giannis Antetokounmpo
C – Brook Lopez
Injury news: PJ Tucker (calf), Bobby Portis (health protocols), and Rodions Kurucs (abdominal) are out
Lakers Projected Lineup
PG – Dennis Schroder
SG – Kentavious Caldwell-Pope
SF – Kyle Kuzma
PF – Markieff Morris
C – Andre Drummond
Injury news: Nothing new
---
Chicago Bulls vs. Phoenix Suns (10 p.m. ET)
Bulls Projected Lineup
PG – Tomas Satoransky
SG – Zach LaVine
SF – Patrick Williams
PF – Thaddeus Young
C – Nikola Vucevic
Injury news: Zach LaVine (Ankle) and Coby White (neck) are questionable, Garrett Temple (hamstring) is doubtful
Suns Projected Lineup
PG – Chris Paul
SG – Devin Booker
SF – Mikal Bridges
PF – Jae Crowder
C – Deandre Ayton
Injury news: Nothing new
---
Phan's Bet to Watch
As of 10:30 a.m. ET, Justin Phan sees betting value in two Wednesday games: Knicks vs. Timberwolves and Bulls vs. Suns. To get instant alerts when he sees an edge and his analysis on those picks, sign up for Action Labs.