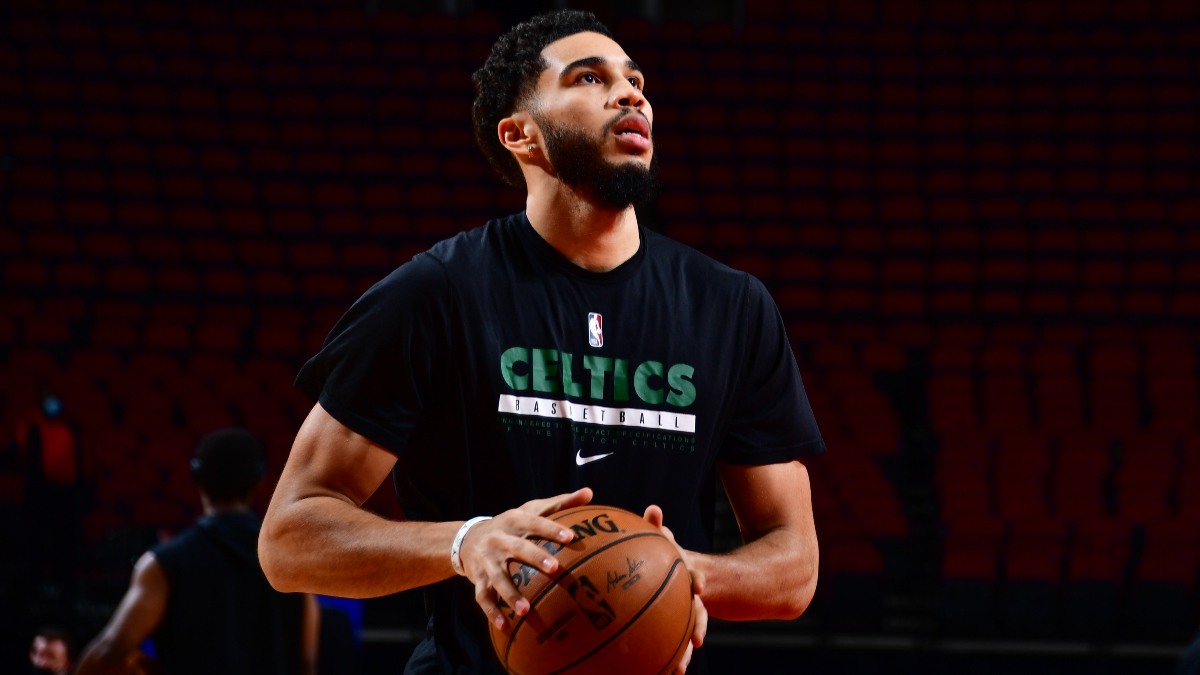 Below are the projected starting lineups for each team playing on Wednesday's NBA slate, along with notable injury news for each squad. For real-time updates to these lineups, check out our Action Labs NBA lineups page.
NBA Injury News
Kawhi Leonard is listed as doubtful ahead of Wednesday's game against the Phoenix Suns after missing the previous four games due to a sore right foot. Nicolas Batum and Amir Coffey are questionable; Luke Kennard and Paul George are not on the injury report.
The Suns have listed Dario Saric and Jae Crowder as questionable Wednesday. Saric missed the previous two games due to left ankle injury management and Crowder has been out three games due to a sprained right ankle.
Jayson Tatum is questionable ahead of tonight's matchup with the Charlotte Hornets after resting in the Celtics' game on Tuesday night. Tatum was said to be dealing with a sore ankle and was sidelined on the front end of a back-to-back.
Kevin Huerter is considered doubtful for the Atlanta Hawks after suffering a sprained shoulder during Monday's loss. He's scheduled to undergo an MRI, and the results are expected to be announced later this evening.
Back up point guard Brandon Goodwin is considered questionable while Trae Young remains out with an ankle injury. If Goodwin has to miss time, the Hawks could turn back to point Bogdan Bogdanovic or opt for Lou Williams or Kris Dunn instead. 
The Jazz will be without Mike Conley and Donovan Mitchell on Wednesday. Conley is dealing with a tight right hamstring and Joe Ingles will likely be the primary playmaker with Jordan Clarkson sliding into the starting lineup. 
Be sure to check the Action Labs NBA page for real time updates.
Projected Starting Lineups
Orlando Magic vs. Cleveland Cavaliers (7 p.m. ET)
Magic Projected Lineup
PG – Cole Anthony
SG – Gary Harris
SF – James Ennis
PF – Chuma Okeke
C – Wendell Carter Jr.
Injury news: James Ennis (Calf) is questionable; Terrence Ross (Back) is doubtful
Cavaliers Projected Lineup
PG – Darius Garland
SG – Isaac Okoro
SF – Cedi Osman
PF – Kevin Love
C – Jarrett Allen
Injury news: Isaiah Hartenstein (Concussion), Larry Nance Jr. (Thumb) and Collin Sexton (Concussion) are out
---
Atlanta Hawks vs. Philadelphia 76ers (7 p.m. ET)
Hawks Projected Lineup
PG – Brandon Goodwin
SG – Bogdan Bogdanovic
SF – Solomon Hill
PF – John Collins
C – Clint Capela
Injury news: Brandon Goodwin (Ankle) is questionable; Kevin Huerter (Shoulder) is doubtful
76ers Projected Lineup
PG – Ben Simmons
SG – Seth Curry
SF – Danny Green
PF – Tobias Harris
C – Joel Embiid
Injury news: Mike Scott (Hip) is questionable
---
Los Angeles Lakers vs. Washington Wizards (7:30 p.m. ET)
Lakers Projected Lineup
PG – Dennis Schroder
SG – Kentavious Caldwell-Pope
SF – Kyle Kuzma
PF – Anthony Davis
C – Andre Drummond
Injury news: Alex Caruso (Back) is questionable; Marc Gasol (Finger), Anthony Davis (Calf), Dennis Schroder (Calf), and Kentavious Caldwell-Pope (Ankle) are probable
Wizards Projected Lineup
PG – Russell Westbrook
SG – Raul Neto
SF – Bradley Beal
PF – Rui Hachimura
C – Alex Len
Injury news: Chandler Hutchison (Ankle) is questionable; Robin Lopez (Ankle) is probable
---
Chicago Bulls vs. New York Knicks (7:30 p.m. ET)
Bulls Projected Lineup
PG – Coby White
SG – Garrett Temple
SF – Patrick Williams
PF – Daniel Theis
C – Nikola Vucevic
Injury news: Zach LaVine (COVID Protocols) and Troy Brown Jr. (Ankle) are out
Knicks Projected Lineup
PG – Elfrid Payton
SG – RJ Barrett
SF – Reggie Bullock
PF – Julius Randle
C – Nerlens Noel
Injury news: Alec Burks (COVID Protocols) is out
---
Charlotte Hornets vs. Boston Celtics (7:30 p.m. ET)
Hornets Projected Lineup
PG – Devonte' Graham
SG – Terry Rozier
SF – Cody Martin
PF – Miles Bridges
C – PJ Washington
Injury news: Nothing new
Celtics Projected Lineup
PG – Marcus Smart
SG – Evan Fournier
SF – Jaylen Brown
PF – Jayson Tatum
C – Robert Williams
Injury news: Jayson Tatum (Ankle) and Robert Williams (Knee) are questionable; Kemba Walker (Oblique) is out
---
San Antonio Spurs vs. Miami Heat (8 p.m. ET)
Spurs Projected Lineup
PG – Dejounte Murray
SG – Lonnie Walker
SF – DeMar DeRozan
PF – Keldon Johnson
C – Jakob Poeltl
Injury news: Derrick White (Ankle) is out
Heat Projected Lineup
PG – Kendrick Nunn
SG – Jimmy Butler
SF – Duncan Robinson
PF – Trevor Ariza
C – Bam Adebayo
Injury news: Tyler Herro (Foot) and Kendrick Nunn (Neck) are questionable; Gabe Vincent (Knee) is probable
---
Portland Trail Blazers vs. Memphis Grizzlies (9 p.m. ET)
Trail Blazers Projected Lineup
PG – Damian Lillard
SG – CJ McCollum
SF – Norman Powell
PF – Robert Covington
C – Jusuf Nurkic
Injury news: Nothing new
Grizzlies Projected Lineup
PG – Ja Morant
SG – Grayson Allen
SF – Dillon Brooks
PF – Kyle Anderson
C – Jonas Valanciunas
Injury news: Nothing new
---
New Orleans Pelicans vs. Denver Nuggets (9 p.m. ET)
Pelicans Projected Lineup
PG – Lonzo Ball
SG – Eric Bledsoe
SF – Brandon Ingram
PF – Zion Williamson
C – Steven Adams
Injury news: Steven Adams (Toe) is questionable; James Johnson (Adductor) is probable
Nuggets Projected Lineup
PG – Facundo Campazzo
SG – PJ Dozier
SF – Aaron Gordon
PF – Michael Porter Jr.
C – Nikola Jokic
Injury news: Nothing new
---
Utah Jazz vs. Sacramento Kings (10 p.m. ET)
Jazz Projected Lineup
PG – Joe Ingles
SG – Jordan Clarkson
SF – Bojan Bogdanovic
PF – Royce O'Neale
C – Rudy Gobert
Injury news: Mike Conley (Hamstring) is out
Kings Projected Lineup
PG – Tyrese Haliburton
SG – Buddy Hield
SF – Maurice Harkless
PF – Harrison Barnes
C – Richaun Holmes
Injury news: Harrison Barnes (Adductor) is questionable; De'Aaron Fox (COVID Protocols) is out
---
Los Angeles Clippers vs. Phoenix Suns (10 p.m. ET)
Clippers Projected Lineup
PG – Reggie Jackson
SG – Terance Mann
SF – Paul George
PF – Marcus Morris
C – Ivica Zubac
Injury news: Nicolas Batum (Shoulder), Yogi Ferrell (Quad) and Amir Coffey (Glute) are questionable; Kawhi Leonard (Foot) is doubtful
Suns Projected Lineup
PG – Chris Paul
SG – Devin Booker
SF – Mikal Bridges
PF – Jae Crowder
C – Deandre Ayton
Injury news: Jae Crowder (Ankle) and Dario Saric (Ankle) are questionable
---
Phan's Bet to Watch
As of 10 a.m. ET, Justin Phan isn't seeing betting value in any game. To get instant alerts when he sees an edge and his analysis on those picks, sign up for Action Labs.