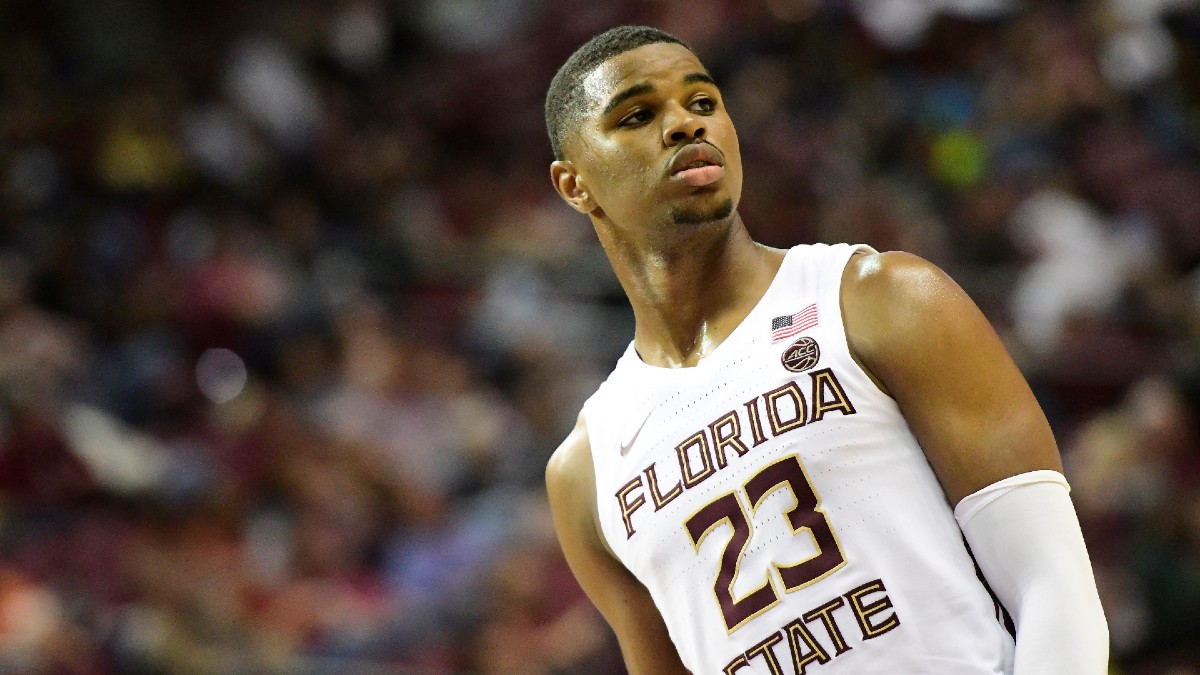 The Presidents Day college basketball slate is extremely small compared to most other days, but that doesn't mean there isn't betting value on the board.
Our staff found two games — one nationally-televised matchup with massive ACC implications and one under-the-radar contest — to break down as their favorite bets of the day. 
Check out the full analysis and picks for Florida State vs. Virginia and East Tennessee State vs. Chattanooga below, and feel free to navigate to either game by using the table below.
---
---
College Basketball Odds & Picks
---
All listed odds have been updated as of Monday morning. Specific bet recommendations at the end of each matchup breakdown come from the sportsbook offering preferred odds as of writing.
Always shop for the best price using our NCAAB Odds page, which automatically surfaces the best lines for every game.
---
Florida State vs. Virginia
Pick
Florida State -1.5
Sportsbook
Tipoff
7 p.m. ET
TV
ESPN
(Photo by David Allio/Icon Sportswire via Getty Images.)
---
The Virginia Cavaliers head down to Tallahassee to face the Florida State Seminoles in what could be a preview of the ACC Championship. 
These are the top two teams in the conference, but they utilize completely different playing styles. 
Florida State plays with a fast tempo and looks to get out and run. Meanwhile, Virginia plays with the slowest pace and uses more shot clock than any other team in the ACC. The Cavaliers have suffered from scoring droughts often this season due to this playing style, something I expect to see again in this game.  
Virginia seniors Sam Hauser and Jay Huff are the leading scorers for the Cavaliers. Point guard Kihei Clark, who stands at 5-foot-9, is going to be a huge liability defensively. Florida State will look to expose him all night with multiple different guards who will have a huge size advantage. 
Florida State has scoring options all over the court. 
The Seminoles own the No. 1 offensive efficiency in conference play, averaging 115.0 points per every 100 possessions, according to KenPom. They're shooting the highest field goal percentage (57.8%) and 3-point percentage (41.8%) in conference matchups. 
Both of these teams have lost only one game since December. 
Florida State has been dominant at home all season, posting a 10-1 record and outscoring opponents by an average 13 points per game in those contests. 
Florida State will get out in transition and create easy buckets, forcing the Cavaliers to play from behind. That's not something Virginia is accustomed to, and it will ultimately doom the Cavs in this game. 
Florida State is a much more athletic team, and the Cavaliers will struggle to find clean looks offensively.
 I'm backing the Seminoles as small home favorites and anticipate them getting an early lead and never looking back.
---
Pick: Florida State -1.5
---
_BookPromo=49
---
» Return to the table of contents «
---
East Tennessee State vs. Chattanooga
Pick
East Tennessee State +1.5
Sportsbook
Tipoff
7 p.m. ET
TV
ESPN+
(Photo by David Allio/Icon Sportswire via Getty Images.)
---
East Tennessee State has the best offense in the SoCon this season, putting up 1.12 points per possession in conference play. The reason for that is that it can dial it up from deep, as it's shooting a cool 39.9% from behind the arc. 
The Bucs have a major advantage against Chattanooga tonight because the Mocs really struggle to defend the perimeter, allowing over 37% from 3-point range. 
East Tennessee State also chucks it up from deep on over 40% of its field goal attempts, so the Mocs are going to need the Bucs to go cold from deep if they want any chance of winning. 
_BookPromo=359
When a team attempts a lot of 3s, it creates plenty of long offensive rebounding opportunities, and the Bucs have taken advantage of them. They have a 33% offensive rebound rate, which is the best in the conference. 
The Mocs are middle-of-the-road when it comes to keeping opponents off the glass, so I expect East Tennessee State to have plenty of second-chance opportunities. 
Chattanooga's offense has been struggling in conference play for a few reasons. It's the worst offensive rebounding team and shoots the lowest percentage from inside the arc in the conference. 
That's going to be an issue because teams beat East Tennessee State's defense by getting the ball inside. The Bucs are one of the best perimeter defenses in the SoCon, allowing only 33% from behind the arc. 
Really, the only way Chattanooga is going to have an advantage in this game is by getting to the free-throw line. It's the best free-throw shooting team in the conference at over 79%, so if it can get to the line early and often, it could gain an advantage on offense. 
I think East Tennessee State has a clear advantage on offense and should be favored, as I have them projected as -1.26 favorite. So, I think there's some value on the Buccaneers at +1.5.
---
Pick: East Tennessee State +1.5
---
---
» Return to the table of contents «
---