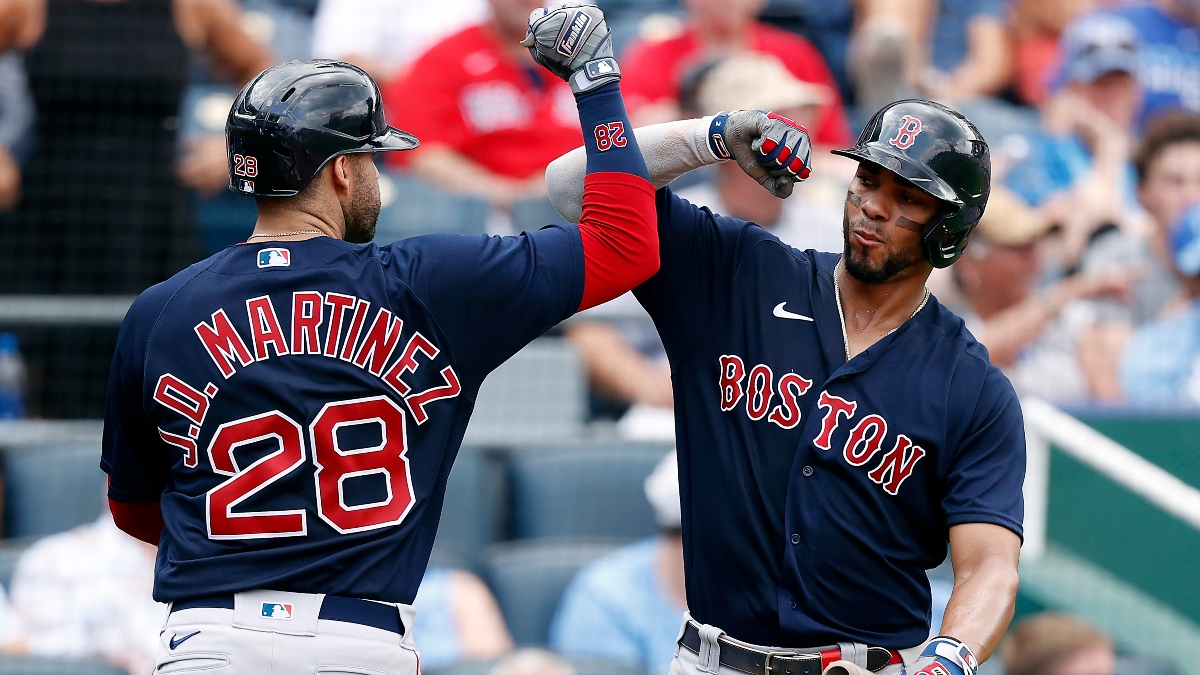 Red Sox vs. Yankees Odds
Red Sox Odds
-115
Yankees Odds
-105
Over/Under
10
Time
7:05 p.m. ET
TV
MLB Network
Odds as of Friday morning and via DraftKings.
Have your fingers crossed that the Red Sox and Yankees are able to get their second halves under way on Friday night in the Bronx.
The rivals were set to start the second half of play for all of MLB on Thursday night, but three Yankees players tested positive for COVID-19, while three others are in league protocols. It's a blow for the Bronx Bombers, who dealt with COVID-19 issues earlier this season and have hit the 85% vaccination threshold set by MLB.
While the Yankees enter the second half three games over .500, the Red Sox are 19 over and eight games clear of their pinstriped rivals. Boston has a 1.5-game lead over Tampa Bay and is tied with Houston for the best record in the American League.
Here's a betting breakdown for Friday night's matchup, including player and team updates following Thursday's postponement.
_BookPromo=267
Boston Red Sox
Pérez is who he is. There's not much special about the veteran left-hander, who has a 5.02 career ERA and 4.68 FIP. This season, his 4.04 ERA (4.65 xFIP) has provided great stability to the Boston rotation, which will strengthen further when Chris Sale returns in a month or so.
The longtime Rangers pitcher isn't going to blow anyone away. Pérez throws either his cutter (89.4 mph average), sinker (92.5 mph) or changeup 81.5% of the time, mixing in a four-seamer or curveball the rest of the time.
After throwing 7 2/3 scoreless innings against the Astros on June 3, Pérez has come back down to earth a bit. He has a 6.15 ERA in his last seven starts, but the Red Sox are 4-3 in those games thanks to a stellar offensive attack.
Boston's big three — Xander Bogaerts, J.D. Martinez and Rafael Devers — have provided a significant uptick in production. Bogaerts was solid last season with an .867 OPS, but his slugging is up 43 points year over year. Devers has become a run-producing machine, significantly increasing his slugging percentage while driving in 72 runs in just 87 games.
Martinez is the key, though. Following his stellar first two seasons in Boston, Martinez struggled mightily in 2020's abbreviated campaign with a .680 OPS. Encouragingly, he has rebounded this year, boasting a .926 OPS with 18 home runs. Martinez ranks second behind Devers for the team lead in home runs, RBI and OPS, but given how bad Martinez was last season, he's the clear difference maker for this 2021 Red Sox squad.
Over the past month, the Red Sox have gotten huge contributions from Enrique Hernandez and Hunter Renfroe. Hernandez, the former Dodgers mainstay, has accumulated a .999 OPS during the last 30 days. Meanwhile, Renfroe has driven in 17 runs during his last 22 games.
Lineup depth has been a concern for Boston; the aforementioned duo struggled for the first couple months, and Bobby Dalbec has not provided much of a spark at first base. Alex Verdugo hasn't been great over the past month either, and Marwin Gonzalez is past his prime.
A boost could be coming in the form of center fielder Jarren Duran, who was in the lineup on Thursday night before that game was postponed. The Red Sox's No. 3 prospect, per MLB Pipeline, has raked at Triple-A Worcester this season, with 15 home runs and a .926 OPS in 46 games.
New York Yankees
As of Friday morning, it remains difficult to project what we're going to get from the Yankees' lineup tonight. Aaron Judge is reportedly one of the players in COVID-19 protocol, and he has been the key stopgap preventing New York from falling even further down the standings this season.
Name any offensive stat: It's likely Judge leads the Yankees in that category, although his .901 OPS isn't high enough to singlehandedly carry a team to playoff contention.
New York's batting lineup has been solid over the past month. Rougned Odor, Gary Sanchez, Gio Urshela (also in COVID-19 protocol), Luke Voit, Giancarlo Stanton and DJ LeMahieu have each registered an OPS north of .796. Then again, OPS hasn't been the team's chief problem.
The Yankees are 12-11 over the last 30 days because their 4.40 ERA during that span ranks 17th in MLB. When you're in a division against juggernaut lineups like the Red Sox and Blue Jays — and a team like the Rays that has been finding ways to win for the past decade — a 4.40 team ERA simply isn't going to get the job done.
New York's lack of consistency in the rotation and the back end of the bullpen has been the team's biggest issue. Corey Kluber seemed to be set for a bounce-back season, but he got hurt after registering a 3.04 ERA in 10 starts. Domingo Germán has been below average — as has offseason acquisition Jameson Taillon. Aside from Gerrit Cole, who hasn't been his usual dominant self all season, the Yanks' staff is questionable at best.
Jordan Montgomery is the likely starter for the Yankees tonight, although he has not been listed by the team as of Friday morning. Before the series' opener was postponed on Thursday, Montgomery had been penciled in to start Friday's game, with Germán slated for Thursday. Neither pitcher is a great option for the Yankees.
Montgomery allowed three runs on eight hits and two walks over six innings against the Red Sox on June 26. Including that outing, the Yankees have lost Montgomery's last three starts by multiple runs. The southpaw has a five-pitch arsenal (changeup, curveball, sinker, four-seam fastball and cutter), and he's unlikely to consistently break 93 mph.
Who knows who the Yankees intend to throw out there on Friday night at this point?
The bullpen hasn't been great over the past month. In fact, Aroldis Chapman has registered a 16.88 ERA over his last seven appearances. Chad Green, Luis Cessa and Jonathan Loaisiga are the only arms that Aaron Boone can really trust in relief at this point, and Loaisiga is one of the three players who tested positive for COVID-19.
---
Red Sox vs. Yankees Pick
This game is currently listed as a pick'em at most books, likely because people enjoy betting on the Yankees. Unless Cole starts for New York, there's not much to make me believe in the Bronx Bombers — especially without their biggest power bat.
Instead, I'm on the Red Sox on Friday night and would play them to -135. The Yankees entered the break looking for answers, and that's how they'll start the second half, too.
Pick: Red Sox -115 (Play to -135)
_BookPromo=405