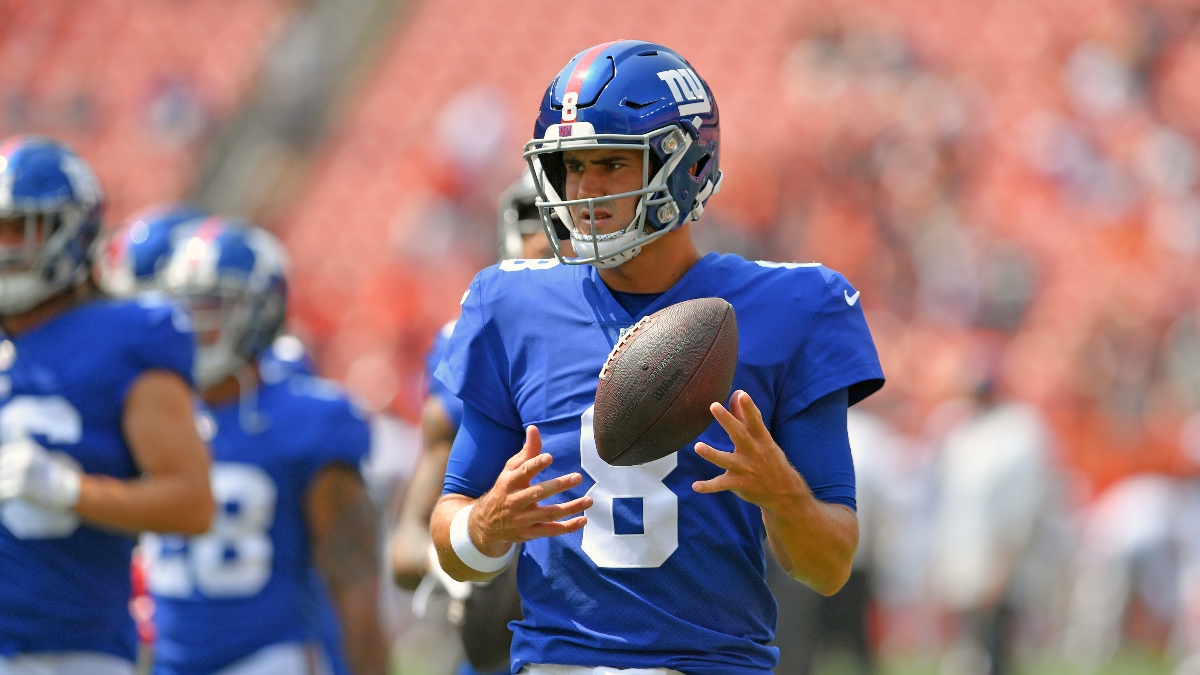 The New York Giants and Washington Football Team both look to avoid 0-2 starts to the season when they meet on Thursday Night Football in Week 2.
It's not the prettiest matchup on paper, and it could be a far cry from last week's TNF thriller between the Cowboys and Bucs in terms of offensive excitement.
The Giants struggled on offense in a Week 1 loss to the Broncos, while Washington hung tough with the Chargers but lost 20-16. It also lost Ryan Fitzpatrick to a hip injury, so Taylor Heinicke will start in his place.
_PromoID=[5576, 1217, 5577]
Giants vs. WFT Start Time
Date: Thursday, Sept. 16
Time: 8:20 p.m. ET
This game will kick off the same time as all other Thursday Night Football games this season, which are five minutes later than Monday Night Football (8:15 p.m. ET) and the same time as Sunday Night Football (8:20 p.m. ET).
The Giants will be back in primetime twice more this season, facing the Chiefs and Bucs on Monday Night Football in November.
Washington will face the Seahawks on MNF in late November and is scheduled to take on the Cowboys on Sunday Night Football in December (though that could be flexed out depending on how each team is faring).
How to Watch Thursday Night Football
TV: NFL Network
Stream: NFL.com/NFL app (cable subscription required)
Finding out where to watch Thursday Night Football can be a little confusing because it changes slightly by week.
NFL Network and its accompanying online streams will have all 18 Thursday Night Football games. However, 11 other TNF games will also be broadcast on FOX and streamed on Amazon Prime.
Again, Giants vs. Washington is not one of the games on FOX and Prime. It's only on NFL Network and streaming on the NFL's apps, which require a cable subscription.
Here is the full schedule:
| Week | Matchup | TV Channel & Stream |
| --- | --- | --- |
| 2 | Washington vs. Giants | NFL Network |
| 3 | Texans vs. Panthers | NFL Network |
| 4 | Bengals vs. Jaguars | NFL Network |
| 5 | Seahawks vs. Rams | Fox, NFLN, Amazon |
| 6 | Eagles vs. Bucs | NFL Network |
| 7 | Browns vs. Broncos | Fox, NFLN, Amazon |
| 8 | Cardinals vs. Packers | Fox, NFLN, Amazon |
| 9 | Colts vs. Jets | Fox, NFLN, Amazon |
| 10 | Dolphins vs. Ravens | Fox, NFLN, Amazon |
| 11 | Falcons vs. Patriots | Fox, NFLN, Amazon |
| 12 | Saints vs. Bills | Fox, NFLN, Amazon |
| 13 | Saints vs. Cowboys | Fox, NFLN, Amazon |
| 14 | Vikings vs. Steelers | Fox, NFLN, Amazon |
| 15 | Chargers vs. Chiefs | Fox, NFLN, Amazon |
| 16 | Titans vs. 49ers | NFL Network |
| 16 | Packers vs. Browns | Fox, NFLN, Amazon |
| 16 | Cardinals vs. Colts | NFL Network |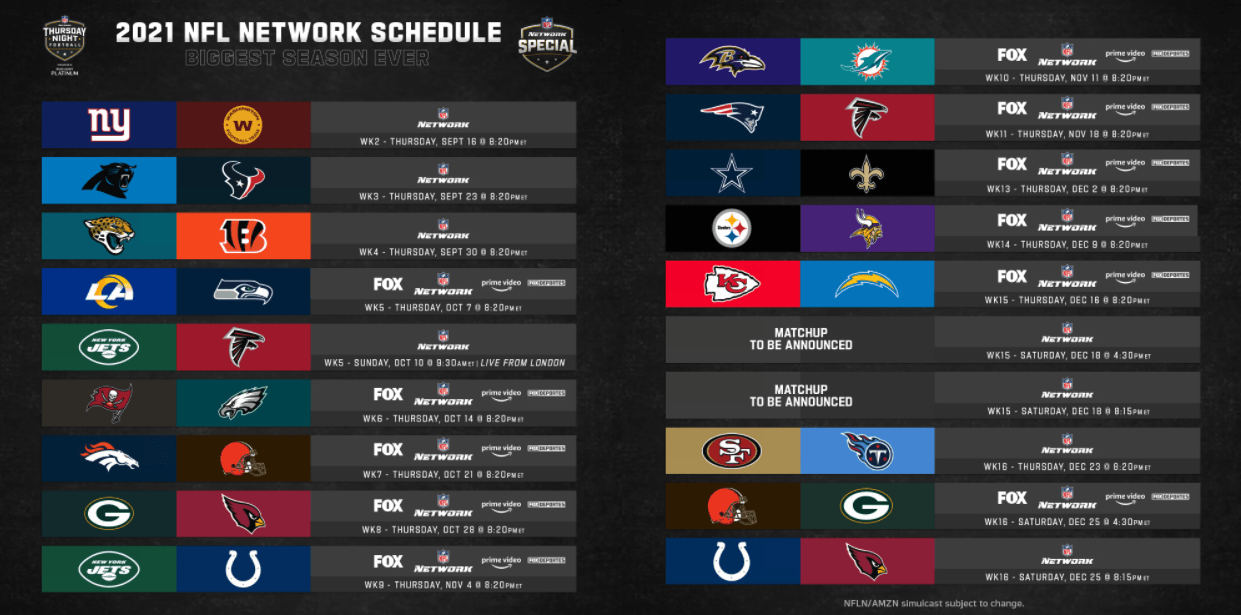 Update Giants-WFT Odds
Giants +3
Washington -3
Total: 40.5
Even without its starting quarterback, the Washington Football team is a 3-point favorite. Given that home-field advantage makes up a few points, the betting market thinks these teams are about even given the current status of each roster.
Giants News
What many see as a make-or-break year for quarterback Daniel Jones did not start the way he hoped.
The Broncos came to New York on Sunday afternoon and won 27-13. Jones threw for 267 yards, but New York couldn't get its ground game going, even with Saquon Barkley healthy. This week, Barkley is questionable.
_PromoID=[3990]
WFT News
The biggest news for either of these teams comes under center, with Fitzpatrick going on IR this week after he suffered a hip injury last week against the Chargers.
We don't know how long Fitzpatrick will be sidelined — he'll be on IR for a minimum of three weeks.
Heinicke played well in relief of Fitzpatrick on Sunday, going 11 of 15 for 122 yards and a touchdown. He's really only played the bulk of a game three times in his career, but one included the NFC Wild Card Round last season.
Heinicke played at Old Dominion from 2011-2014 and has bounced around the NFL since. He's been on the practice squad or active roster for the Vikings, Texans, Patriots and Panthers. He also made a brief pitstop in the short-lived XFL with the St. Louis BattleHawks in the spring of 2020.