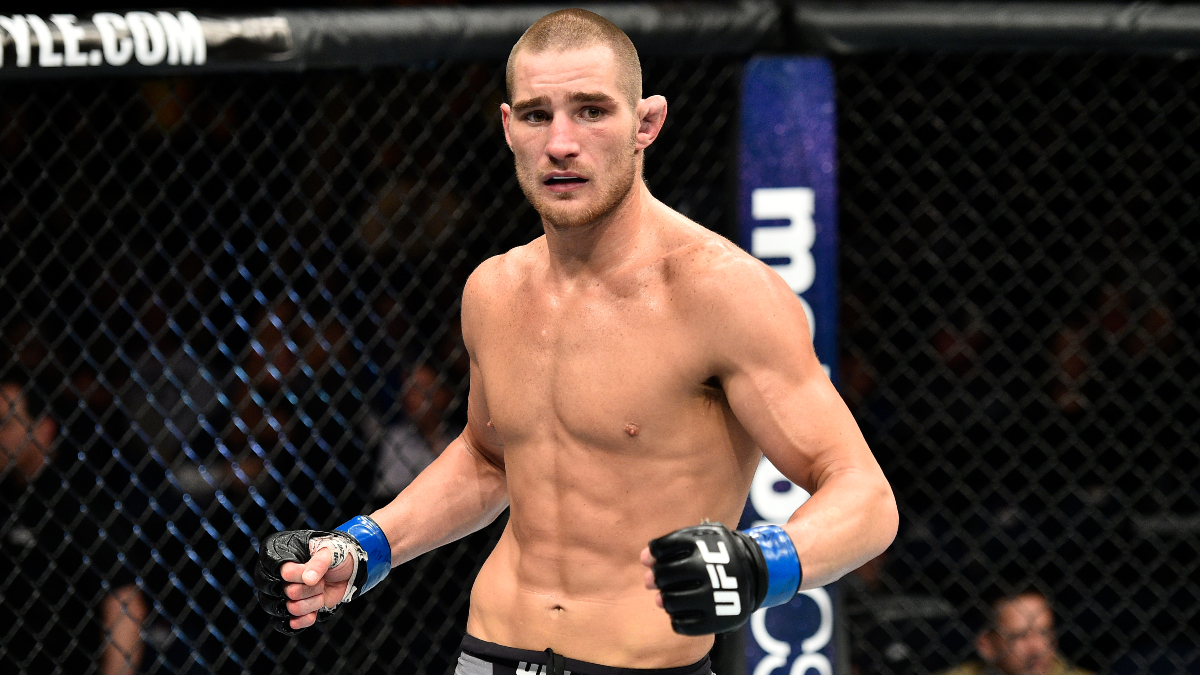 The UFC returns to the APEX in Las Vegas with an 11-fight card headlined light heavyweights Dominick Reyes and Jiri Prochazka.
So, where should you be looking to place your bets? Our crew is looking at two fights in particular and sees a few bets in those matchups with value. You can find their analysis and picks on those matches below.
You can also check out the moneyline and prop projections for every fight via Sean Zerillo's betting model.
---
Moneyline Projections
Prop Projections
Sean Zerillo: Sean Strickland vs. Krzysztof Jotko
Betting Analyst, The Action Network
If you're hesitant to lay -265 (implied 72.6%) on one bet in a cage fight, I understand entirely and there are more reasonable moneyline prices (T.J. Brown to +106 and Ion Cutelaba to -122) worth playing on this card.
There are also a few decision props (notably Cub Swanson to +275 and Merab Dvalishvili to -150) that I think offer value.
However, my biggest bet is on Sean Strickland, who has turned in a pair of dominant efforts since returning from a gruesome 2018 knee injury and moving to the 185-pound division.
Strickland offers sharp boxing with high output (5.09 strikes landed per minute, +1.32 strike differential), and he should be able to chew up Jotko (2.98 strikes landed per minute, +1.08 differential) from range. Strickland also offers solid takedown defense (81%), and Jotko's best path to victory is through his grappling (1.27 takedowns per 15 minutes, 35% accuracy).
Outside of his fight against Kamaru Usman (secured two of eight attempts, 8:08 of control), Strickland has been tough to take down.
Strickland is versatile. He can lead the dance with his jab or fire powerful counters while moving away. Strickland should also have the strength advantage in this matchup, making it even more difficult for Jotko to win their clinch positions and giving the favorite significantly more finishing upside.
I projected Strickland to win this fight 77% of the time and would bet his moneyline up to -300 odds.
The Bet: Sean Strickland ML (-265)
_BookPromo=49
---
Erich Richter: Merab Dvalishvili vs. Cody Stamann
Contributor at The Action Network
UFC takedown specialist Merab "The Machine" Dvalishvili will face off against Cody Stamann on the main card. Merab, who has won five consecutive fights in the UFC, is looking increasingly dominant inside the octagon.
In his last fight, Dvalishvili easily beat John Dodson resulting in a 30-27 unanimous-decision victory. Dvalishvili features phenomenal takedown ability averaging 7.71 per 15 minutes, according to UFCStats.
Dvalishvili has a similar style to Khabib Nurmagomedov and many other Eastern European UFC fighters. He constantly shoots for double-leg takedowns and pressures his opponents up against the fence.
Stamann has a totally different strategy that has mostly worked for him in the octagon. He is a high-volume striker who grinds his opponents out for decision victories. Stamann has eight total UFC fights, with seven going to a decision.
We saw a furious pace from Dvalishvili in his last fight, but he did struggle to get Dodson down to the ground. I think that could happen again here, with Stamann bringing stronger offensive prowess than Dodson had.
Similar to Stamann, Dvalishvili has seven fights in the UFC, with six of them going to decision. I think we're primed for a judge's decision in this fight as well.
You can get excellent value on either fighter by decision, but I will favor Dvalishvili here. His grappling and ability to impose his will on opponents is largely too much for most of his opponents.
Since both of these fighters have a combined 86.67% decision rate in the UFC, I think that this could be an excellent parlay builder. FanDuel has this prop at -270, which is excellent value. Many other books have this line around -330, which is where my limit would be.
Dvalishvili by decision is -134 on PointsBet, which is excellent value. I would bet this up to -150, especially since neither fighter has finished an opponent inside the distance since 2017.
The Pick: Fight to Go the Distance (-270) | Dvalishvili by Decision (-134)
_BookPromo=19