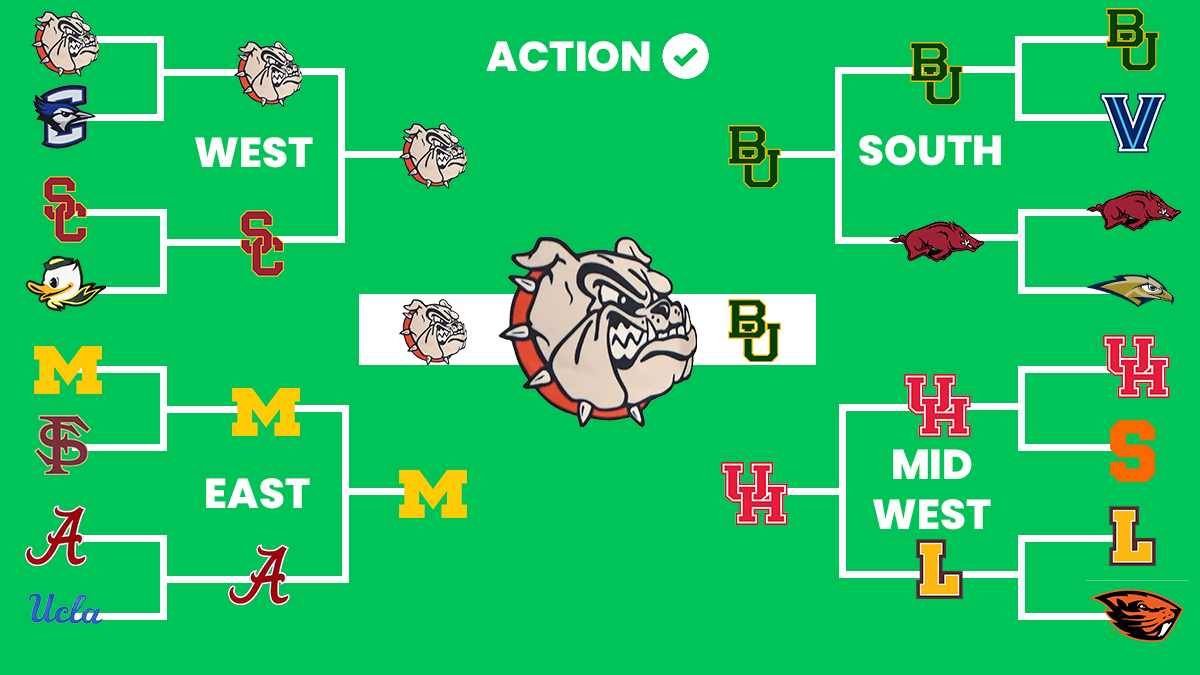 The madness marches on when the Sweet 16 tips off Saturday.
Whether you're still alive in your original bracket or building a second-chance one, we've projected the final rounds of the NCAA Tournament.
You'll find the projected winner of each remaining actual and potential matchup outlined below, complete with the projected score as calculated by Sean Koerner, our Director of Predictive Analytics. We'll also run through Koerner's projected chances for each team to advance to each of the remaining rounds.
It should come as little surprise that our projected Final Four features the three remaining 1-seeds as well as one of the two 2-seeds (and that our projected final champion is Gonzaga), but you may find some of the score projections and chances for each team to advance through the final rounds surprising.
Now let's dig in!
NCAA Predictions
| Team | Elite 8 | Final 4 | Final |
| --- | --- | --- | --- |
| (1) Baylor | 79.34% | 59.03% | 40.45% |
| (5) Villanova | 20.66% | 9.34% | 3.55% |
| (3) Arkansas | 84.13% | 30.10% | 14.53% |
| (15) Oral Roberts | 15.87% | 1.53% | 0.24% |
| (8) Loyola (IL) | 75.23% | 33.15% | 12.48% |
| (12) Oregon St | 24.77% | 5.22% | 0.89% |
| (11) Syracuse | 26.23% | 11.57% | 3.12% |
| (2) Houston | 73.77% | 50.05% | 24.74% |
| (1) Michigan | 62.48% | 39.30% | 15.09% |
| (4) Florida St | 37.52% | 19.06% | 5.36% |
| (11) UCLA | 29.27% | 8.02% | 1.38% |
| (2) Alabama | 70.73% | 33.62% | 10.87% |
| (1) Gonzaga | 86.23% | 72.05% | 55.84% |
| (5) Creighton | 13.77% | 6.26% | 2.35% |
| (6) USC | 51.81% | 11.54% | 4.94% |
| (7) Oregon | 48.19% | 10.15% | 4.17% |
Sweet 16
West Region
(1) Gonzaga vs. (5) Creighton: Gonzaga, 85.0-73.0
(6) USC vs. (7) Oregon: USC, 70.2-69.7
East Region
(1) Michigan vs. (4) Florida State: Michigan, 74.7-71.2
(2) Alabama vs. (11) UCLA: Alabama, 73.2-67.2
South Region
(1) Baylor vs. (5) Villanova: Baylor, 79.5-70.5
(3) Arkansas vs. (15) Oral Roberts: Arkansas, 83.6-72.6
Midwest Region
(2) Houston vs. (11) Syracuse: Houston, 74.4-67.4
(8) Loyola Chicago vs. (12) Oregon State: Loyola, 68.1-60.6
Elite Eight
West Region
(1) Gonzaga vs. (6) USC: Gonzaga, 80.2-69.7
East Region
(1) Michigan vs. (2) Alabama: Michigan, 70.8-68.8
South Region
(1) Baylor vs. (3) Arkansas: Baylor, 78.7-72.7
Midwest Region
(2) Houston vs. (8) Loyola Chicago: Houston, 64.8-61.3
---
Final Four
(1) Gonzaga vs. (1) Michigan: Gonzaga, 79.5-73.0
(1) Baylor vs. (2) Houston: Baylor, 73.5-70.5
---
Championship
(1) Gonzaga vs. (1) Baylor: Gonzaga, 82.3-78.3
_BookPromo=317