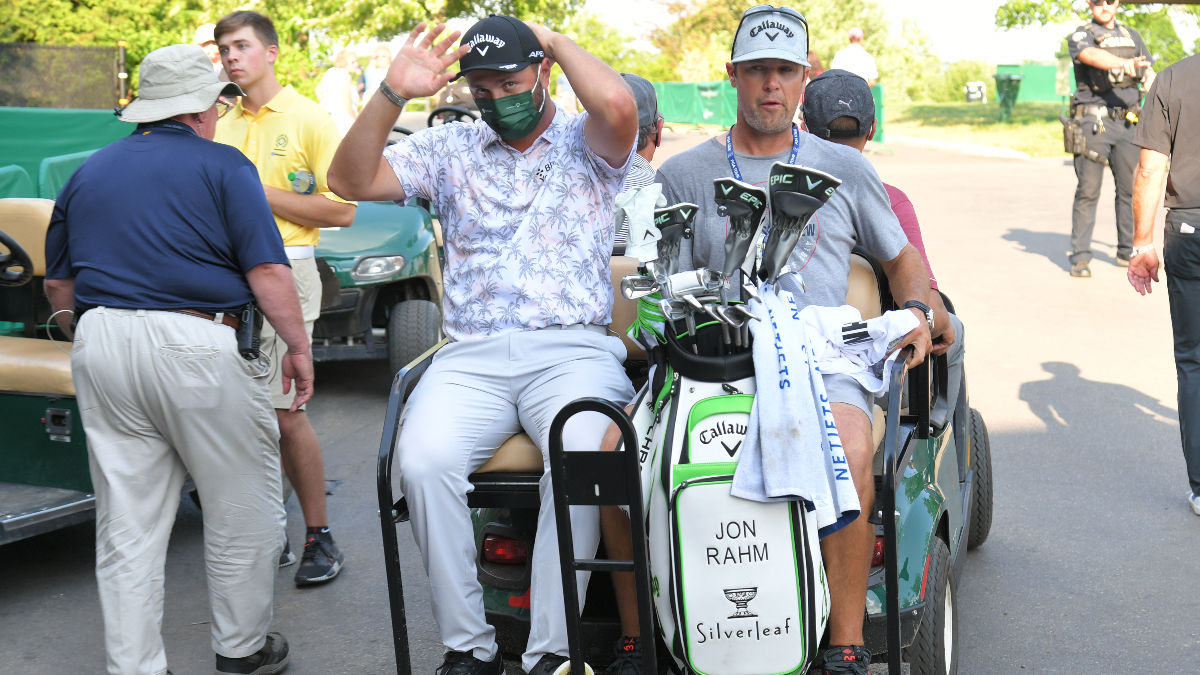 After a stunning day that saw him finish his second round with a hole-in-one before taking a six-shot lead after a stellar third round, Jon Rahm was forced to withdraw from the Memorial Tournament at Muirfield Village.
Rahm shot an 8-under third round on Saturday afternoon and was going to be the heavy favorite to finish the job and win his second straight Memorial, which causes a potential problem for sportsbooks.
DraftKings tweeted after the news broke that they would pay out all outright bets on Rahm, who started around +1000 before the tournament.
When Rahm reached 18-under par with his final birdie of the day on the 17th hole, he was -1200 to win the tournament at BetMGM.
Rahm was informed of the positive result after he finished his round behind the 18th green. He is the defending champion at the invitational tournament that is hosted by Jack Nicklaus.
Here's the statement from the PGA TOUR:
On the evening Monday, May 31, the PGA TOUR notified Jon Rahm that he was subject to contact-tracing protocols, as he had come in close contact with a person who was COVID positive. Per the TOUR's COVID Health & Safety Plan, Rahm was given the option to remain in the competition and enter our tracing protocol, which includes daily testing and restricted access to indoor facilities. Rahm has remained asymptomatic.

Rahm has tested negative every day, but his most recent test – which was performed after the conclusion of his second round (rain delayed) and before the start of his third round – returned positive at approximately 4:20 p.m. ET while Rahm was on the golf course. The PGA TOUR's medical advisor requested a confirmatory test on the original sample, which came back at 6:05 p.m. ET, and was also positive.

The PGA TOUR's medical advisor notified Rahm immediately upon completion of his round, and under TOUR protocols, he will be withdrawn from the competition. Rahm is now in isolation, and in accordance with CDC guidelines, he will need to remain in isolation through Tuesday, June 15.
Rahm finished his second round on Saturday with Collin Morikawa and Xander Schauffele before playing with Patrick Cantlay and Scottie Scheffler in the third round. PGA officials said those players were being interviewed about their interactions with Rahm throughout the day and would be tested before the final round.
"I've already had COVID, so, yeah, I got to imagine I have antibodies, so I don't feel too concerned," said Cantlay, who is suddenly and unexpectedly tied for the lead with Morikawa because of Rahm's withdrawal, "but obviously it is somewhat of a concern, but I got to imagine that I had it earlier this year, so I'm feeling pretty okay about it."
"My heart just sank," Scheffler said. "It's terrible that that happened. I think it's terrible they told him in front of the cameras. I just, my heart is still, it just sinks for him. I just feel awful."
Wow. Rahm tested positive for Covid and has to withdraw. With a 6 shot lead. pic.twitter.com/ySwaIXQaNq

— Until. (@UntilGolf) June 5, 2021
Before the tournament started, Rahm was favored to retain his title at Muirfield Village after finishing eighth at the PGA Championship two weeks ago at Kiawah Island.
With the US Open in two weeks at Torrey Pines, Rahm will face a race against the clock in order to gain eligibility for that tournament.
This is not the first time that Rahm has received bad news at the Memorial, although last year's pales in comparison to this. He received a two-stroke penalty when his ball moved slightly before he chipped in for a birdie from the rough on the 16th hole during the final round. He maintained a lead and held on to win the tournament.