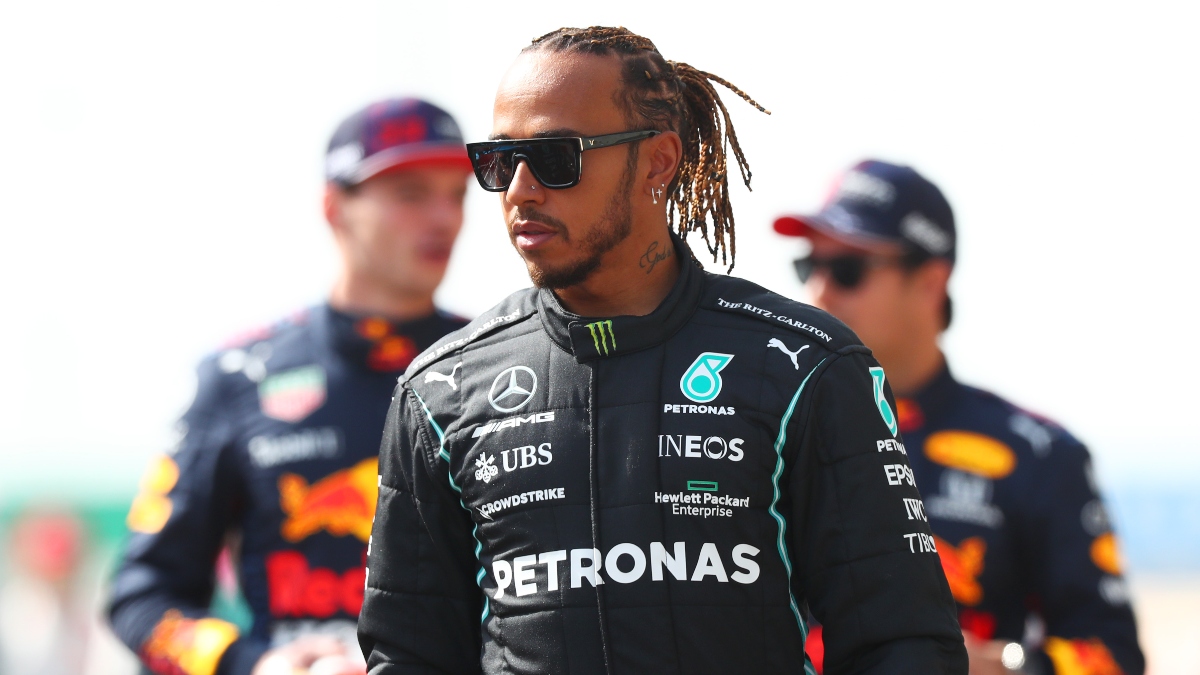 It might be strange to see Mercedes' Lewis Hamilton not atop the odds board as he begins his chase for an eighth straight World Championship.
But that's the case for Sunday's Bahrain Grand Prix (11 a.m. ET, ESPN).
Red Bull's Max Verstappen is a -175 favorite at PointsBet. A $17.50 bet will pay out $10 in winnings, and those odds give him a 54% chance to win (with the juice removed).
It shouldn't come as any surprise, though. Red Bull looked excellent in testing all winter, Merc was average by its standards and Verstappen took the pole for Bahrain by an incredible 0.388 seconds over Hamilton.
_BookPromo=19
Prior to qualifying, most sportsbooks listed Hamilton and Verstappen about even, each at +150, with their teammates Valtteri Bottas and Sergio Perez the only other drivers under 10-1.
Mercedes' did land its second car in the third spot, with Bottas finishing just ahead of Ferrari's Charles Leclerc in qualifying. That's good news for both teams — it indicates Merc has made strides since poor preseason testing, and that Ferrari has reason to believe it can improve on its worst season in 40 years.
Red Bull's Perez will start 11th but is still the fourth betting choice to win the Bahrain Grand Prix at 35-1 after Verstappen, Hamilton and Bottas.
Because there's not a ton of subjectivity in the quality of driver and car, sportsbooks like PointsBet and DraftKings post tons of different betting on Formula 1 — matchups, groups, fastest lap, and more.
Hamilton remains the favorite to win the Drivers Championship at -120 (Bet365), with Verstappen at +125.
Formula 1 Bahrain Grand Prix Odds to Win
| Driver | Odds | Probability |
| --- | --- | --- |
| Max Verstappen | -175 | 54.02% |
| Lewis Hamilton | 190 | 29.27% |
| Valtteri Bottas | 1500 | 5.31% |
| Sergio Perez | 3500 | 2.36% |
| Pierre Gasly | 4000 | 2.07% |
| Daniel Ricciardo | 5000 | 1.66% |
| Charles Leclerc | 6600 | 1.27% |
| Lando Norris | 8000 | 1.05% |
| Carlos Sainz Jr. | 12500 | 0.67% |
| Fernando Alonso | 25000 | 0.34% |
| Yuki Tsunoda | 25000 | 0.34% |
| Lance Stroll | 30000 | 0.28% |
| Kimi Räikkönen | 50000 | 0.17% |
| Sebastian Vettel | 50000 | 0.17% |
| Esteban Ocon | 50000 | 0.17% |
| Antonio Giovinazzi | 50000 | 0.17% |
| George Russell | 50000 | 0.17% |
| Nicholas Latifi | 50000 | 0.17% |
| Mick Schumacher | 50000 | 0.17% |
| Nikita Mazepin | 50000 | 0.17% |
Bahrain Grand Prix Starting Grid
| Position | Driver | Team |
| --- | --- | --- |
| 1 | Max Verstappen | Red Bull |
| 2 | Lewis Hamilton | Mercedes |
| 3 | Valtteri Bottas | Mercedes |
| 4 | Charles Leclerc | Ferrari |
| 5 | Pierre Gasly | AlphaTauri |
| 6 | Daniel Ricciardo | McLaren |
| 7 | Lando Norris | McLaren |
| 8 | Carlos Sainz | Ferrari |
| 9 | Fernando Alonso | Alpine |
| 10 | Lance Stroll | Aston Martin |
| 11 | Sergio Perez | Red Bull |
| 12 | Antonio Giovinazzi | Alfa Romeo |
| 13 | Yuki Tsunoda | AlphaTauri |
| 14 | Kimi Räikkönen | Alfa Romeo |
| 15 | George Russell | Williams |
| 16 | Esteban Ocon | Alpine |
| 17 | Nicholas Latifi | Williams |
| 18 | Sebastian Vettel | Aston Martin |
| 19 | Mick Schumacher | Haas |
| 20 | Nikita Mazepin | Haas |