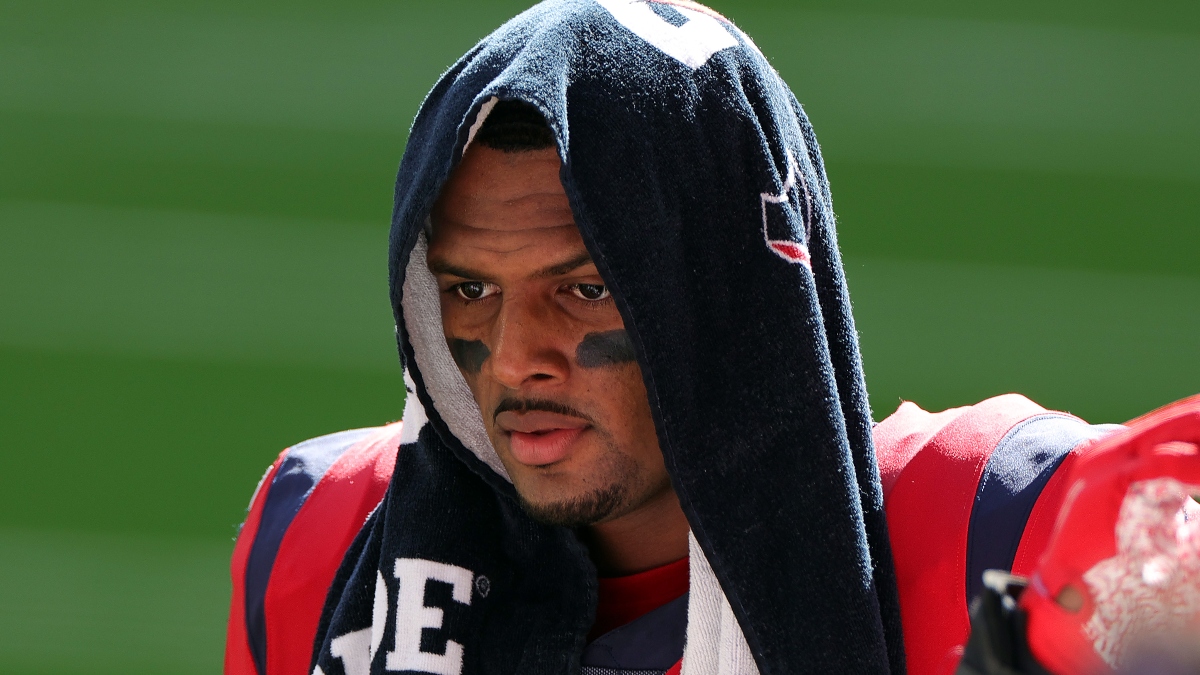 Deshaun Watson Trade Odds
Team
Odds
Texans
+200
Dolphins
+300
49ers
+340
Broncos
+380
Panthers
+550
Jets
+900
Bears
+1500
Patriots
+1500
Washington
+1700
Lions
+2200
Colts
+2200
Eagles
+2500
Falcons
+4000
Jaguars
+4000
Steelers
+4000
Cowboys
+5000
Vikings
+5000
Saints
+5000
Giants
+5000
Odds as of Feb. 11 and via FanDuel, where you can get up to a $1,000 risk-free bet.
While the Texans made news on Friday by releasing longtime franchise star J.J. Watt, there was more news on Deshaun Watson that affected the quarterback's betting market.
According to ESPN's Jeremy Fowler, the Denver Broncos and San Francisco 49ers are among the teams that Watson would be interested in a trade to.
The New York Jets? Not so much.
The Jets have the most to offer the Houston Texans, with two first-round picks both this year and in 2022 thanks to trading safety Jamal Adams to the Seahawks. But New York is coming off a two-win season and has shown few signs of improvement recently.
The Broncos have the ninth pick in this year's draft, and they could build a package around quarterback Drew Lock. Whether that's one the Texans would be interested in remains to be seen.
For the 49ers, they have pick No. 12 in the draft and quarterback Jimmy Garoppolo's contract that they'd like to get rid of. Those two alone likely wouldn't come close to touching Watson's value in Houston's eyes, although the Texans may have more interest in Garoppolo than most teams given general manager Nick Caserio and Jack Easterby's past with the New England Patriots.
With picks Nos. 3 and 18 overall in this year's draft, and quarterback Tua Tagovailoa as well as a team that is close to breaking through to the playoffs, the Dolphins remain the most logical landing spot for Watson if the Texans decide to trade him and get sufficient value in return.
---
More QB Odds: Carson Wentz | Jimmy Garoppolo
---
Past Updates
Feb. 11
Matthew Stafford's ultimate price — two first-round picks, a third-rounder and Jared Goff — has seemingly tipped the scales of what could be a busy offseason trade market for quarterbacks in the NFL.
After weeks of speculation and movement on the oddsboard to be his next team, Deshaun Watson is once again favored to remain in Houston: The Texans are +200 to retain the quarterback — odds that would net a $200 profit on a $100 bet (convert more betting odds with our calculator).
Right behind the Texans are the Jets at +250 (win $250 on $100 bet) and the Panthers at +350 (win $350 on $100 bet), both of which have been floating toward the top of this list for some time now.
ESPN's Texans reporter Sarah Barshop recently predicted that Watson would remain in Houston — even if that ultimately means he sits out the season if he and the team cannot repair their fractured relationship.
Feb. 5
There's been a notable shift at the top of the board with the New York Jets overtaking the Dolphins as the betting favorite to land Watson.
New York moved as not just the favorite to acquire Watson but also replaced the Texans as the favorite to have him Week 1. Houston was +170 to be Watson's team in Week 1 but dropped to +260.
Miami is now +700 to land the Texans' disgruntled quarterback, good for fourth on the board. That's behind a surprise team that was not originally listed when the lines were first released.
Carolina is +300, possibly listed after their rumored interest and offer for Matthew Stafford.
The other big jump comes from San Francisco. The 49ers could look to move on from Jimmy Garoppolo and make a splash. Originally listed at +2500, the 49ers are now +1000.
Jan. 30
The early star of this offseason's quarterback carousel is Deshaun Watson.
Over this past weekend, ESPN's Chris Mortensen and Adam Schefter reported that the Texans' head-coaching hire is not expected to impact Watson's decision to request a trade.
With the hire of David Culley, that has not changed.
According to ESPN on Thursday morning, Watson officially requested a trade weeks ago and his position remains the same. He has not spoken to Nick Caserio or executive Jack Easterby.
The team's hiring decisions spurred the initial reports that Watson wants out of Houston. As we detailed previously, the Texans quarterback was reportedly unhappy with team owner Cal McNair over the hiring process for their new general manager Nick Caserio.
The top of the oddsboard remains largely unchanged since our update last week: The Texas are still listed as the favorites to retain Watson, but the Dolphins did jump the Jets as the favorite to acquire him.
The Broncos and Colts also saw their odds shorten.
_BookPromo=24
Jan. 19 Update
Deshaun Watson will be the biggest name in trade rumors this offseason, although betting odds favor a return to Houston.
According to odds released by BetMGM on Tuesday, the Texans are even money to be the team Watson takes his first snap for in 2021. If he's traded, the Jets and Dolphins are each +400 to acquire him.
Watson's name is in trade rumors because of his displeasure with the organization. According to multiple reports, Watson is unhappy with team owner Cal McNair over the hiring process for their new general manager Nick Caserio. Watson also watched as the team traded his favorite target DeAndre Hopkins last season to the Cardinals.
Houston is coming off a 4-12 season but will not have its own first-round pick. That was traded to the Dolphins for offensive lineman Laremy Tunsil.
One of the holdups in a Watson trade — apart from the fact Houston would be trading the NFL's reigning leading passer — is that he has a no-trade clause in his contract and can control his destination.
The Jets and Dolphins can each offer a trade package surrounding draft picks and potentially a young quarterback in either Sam Darnold or Tua Tagovailoa.
The Bears had the first chance to acquire Watson back in the 2017 NFL Draft but instead traded up to select Mitchell Trubisky. A second chance with Watson is listed at +800.
The Patriots, Broncos and Washington Football Team are the only other teams with odds at +1000 or shorter.