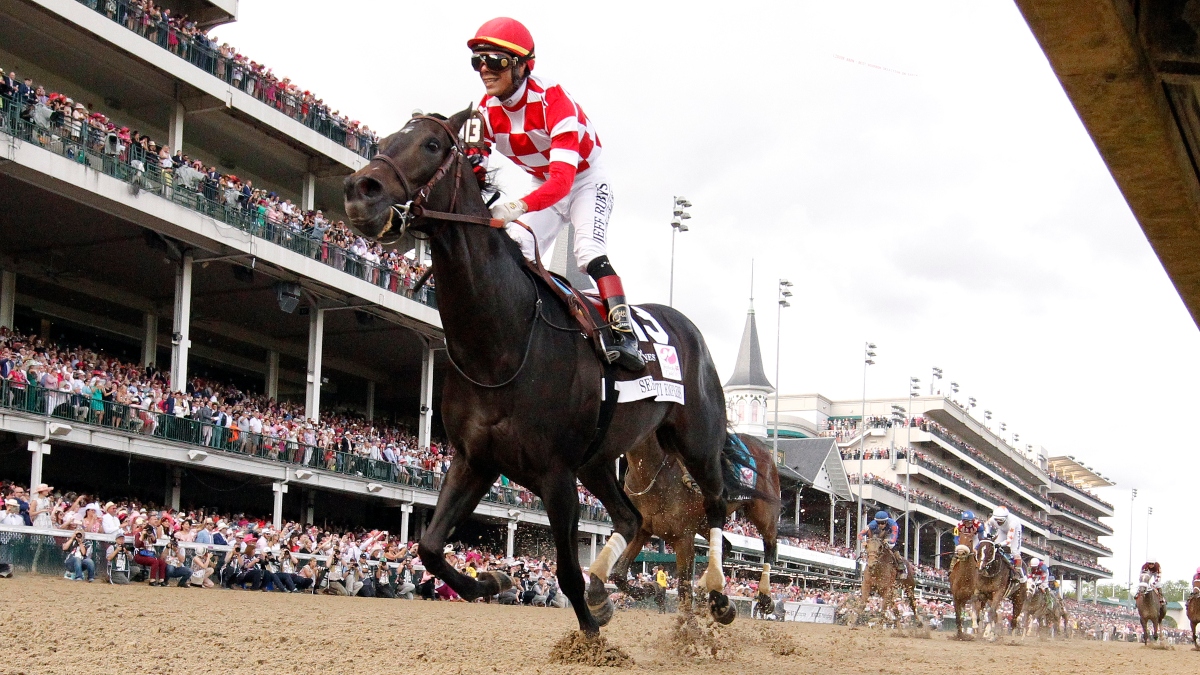 Welcome to one of the best weekends on the sports calendar. While Saturday's Kentucky Derby gets the headlines, there's plenty of world-class horse racing on Friday, culminating with the Kentucky Oaks.
Let's dive into the action:
Race 5
Post Time: 12:43 p.m. ET
I'll start my card with this optional claiming non-winners of three event. This race is a a mile and an eighth and will be run over the turf course.
There appears to be plenty of pace on paper, which means the closers should have an ideal setup in front of them. One of those closers — and one of my favorite bets of the day — is No. 1 Temple (5-1).
The Mike Maker trainee is getting class relief after running in graded stakes events his last three tries. While his most recent effort was a disappointing sixth-place finish, Maker is one of the best at preparing his turf horses for these long route races, winning at an 18% clip. If he runs anywhere near his two races before that, he wins easy. In addition, Temple gets one of the hottest jockeys in Joel Rosario, who always seems to know when to ask his horses, especially on the turf, winning at 21%.
I doubt that Temple closes at 5-1, but I will be betting big on him at 2-1 or better.
Race 5 Bets: No. 1 Temple to win; Pick 3: 1/5/6
_BookPromo=32
Race 6
Post Time: 1:26 p.m. ET
The first stakes race of the weekend is the Grade 2 Alysheba, which will be run over the main track at a mile and a sixteenth.
The morning-line favorite is No. 6 Maxfield (4-5). He was a promising three-year-old and was a Derby hopeful last year, but he ended up getting injured twice and was forced to the sidelines. Maxfield has five wins and one third-place finish in six career starts and is a perfect 2-for-2 of the Churchill main track. He is also a perfect 4-for-4 at the distance.
That said, it's important to note that the lone blemish on his resume was in his last start, the Grade 1 Santa Anita Handicap. Trainer Brendan Walsh has only won 8 out of 89 graded stakes races, where he's saddled a runner, but 3 of those wins came from Maxfield. While he is the most obvious choice in the race and could win going away, I'm going in another direction.
My top pick is No. 5 Roadster (9-2), who is trained by Bob Baffert. When we saw Roadster for the first time in over a year at the end of March in the G1 New Orleans Handicap, we saw a different type of running style. In that race Roadster went to the lead and held it until mid-stretch when he was overtaken finishing fourth, but only by 3/4 of a length.
Roadster has shown up on the work tab four times since that start, all very strong works. Baffert wins at 29% in graded stakes races and 35% in the second race off the long layoff. Arguably the best rider in the world, Irad Ortiz Jr., gets the call and what's even better about that is that Baffert and Irad have teamed up four times over the past year, winning three of them.
Race 6 Bet: No. 5 Roadster to win
_BookPromo=32
Race 7
Post Time: 2:09 p.m. ET
Next, we have the Grade 2 Edgewood for three-year-old fillies, which will be run over the turf course at a mile and a sixteenth.
There's only one way to go in this race and that's No. 6 Aunt Pearl (4-5). The Brad Cox trainee is a perfect 3-for-3 in her career and two of those came over a good turf course, which is important to note because of the rain from Wednesday afternoon/overnight.
Aunt Pearl has progressively improved her speed figures in each of her starts and there just isn't anyone else fast enough to challenge her on the front end. Her price may not be attractive, but there's no other way around it, she will be the winner.
Race 7 Bets: No. 6 Aunt Pearl to win; Pick 3: 6/3/6; Pick 5: 6/3/6,7/8,9/3,5,6,10
_BookPromo=32
Race 8
Post Time: 3:03 p.m. ET
Race 8 is the Grade 1 La Troienne and is run at a mile and a sixteenth over the main track for fillies and mares four years old and up.
I'm against the morning-line favorite No. 2 Shedaresthedevil (8-5), who won the G1 Kentucky Oaks back in September. While the Brad Cox trainee is undefeated at Churchill (3-for-3), four of her six other competitors also have an unblemished record over the track, too.
No doubt Shedaresthedevil is fast, but it looks like No. 1 Envoutante (6-1) will be forced to press the pace from her post position, and while not as fast on paper, No. 4 Bajan Girl (10-1) has only ever won in gate-to-wire fashion on the dirt. Bajan Girl also gets Luis Saez who is known to be a more aggressive rider and will look to have her in race from the get-go.
With that said, my top pick is No. 3 Dunbar Road (5-2). Pending how fast they go up front, she will sit in a stalking position, but this horse can also come from further back. Not to mention, she also has the best late pace figure (112) in the race by far.
The key to the Chad Brown trainee winning, will be to have someone else press Shedaresthedevil early. If that happens, Dunbar Road will pick up the pieces late and win.
Race 8 Bets: No. 3 Dunbar Road to win; Double: 3/6 (Race 8 + Race 9)
_BookPromo=32
Race 9
Post Time: 4:04 p.m. ET
The Grade 2 Eight Belles for three-year-old fillies will be run over the main track at seven furlongs.
Similar to the La Troienne, I'm going against the front-running favorite, No. 10 Dayoutoftheoffice (3-1). We haven't seen the daughter of Into Mischief since the G1 Breeders Cup Juvenile Fillies last November at Keeneland, where she finished second behind Vequist.
While Dayoutoftheoffice's speed figures and the cut back in distance make her dangerous in this spot, I don't like that we haven't seen her since November. Additionally, her trainer Timothy Hamm has only won 9% of his races this year and is winning at just a 9% clip off the layoff.
My top pick is No. 6 Slumber Party (6-1). She was the favorite in her most recent start, the G3 Beaumont at Keeneland, where she finished a fast-closing second. If you just look at that race on paper one would think she just wasn't good enough, but that is one of the reasons watching replays is so important. Jockey Joel Rosario had Slumber Party down on the rail to save ground, which wasn't a problem until he had no room to move her. By the time she got out, the winner had opened up by four lengths. Jockey Irad Ortiz Jr. always seems to put his horses in the right spot and I expect him to do so here to help us cash a nice winner.
The other horse I like is No. 7 Obligatory (10-1), who is trained by hall-of-famer Bill Mott. After breaking her maiden in February at Gulfstream, she tried stakes company in the G2 Fairgrounds Oaks, but she finished a distant fourth behind Travel Column, Clairiere (both running later in the Kentucky Oaks) and Souper Sensational, who is also running here. In that race, Obligatory was caught between horses the entire race and had no finish which is what I don't like, but there are a few angles that I do really like.
For starters, Bill Mott is 21% when cutting back from a route to a sprint. More importantly, she had a massive Beyer speed figure improvement from her two-year-old start (55) to her first three-year-old start (79) and she has run back-to-back 79's, which indicates she could be sitting on a big race.
Finally, Mott is not one known to push his horses in the mornings and her last two workouts have been bullets, with the most recent coming over the Churchill track. At the price, I'll be including her in both my vertical and horizontal wagers.
Race 9 Bets: No. 6 Slumber Party to win
_BookPromo=32
Race 10
Post Time: 4:55 p.m. ET
Next, we go back to the turf with the five-and-a-half furlong G2 Twin Spires Turf Sprint for three-year-olds and up.
Typically in turf sprints you want to be on, or close, to the lead, but in this case, there is going to be so much early speed with No. 1 Johnny Unleashed (10-1), No. 3 Fiya (4-1), No. 5 Just Might (8-1) and potentially one or two others. With that in mind, I'm actually looking for horses that could take advantage by closing late.
There are only three horses in this race who have won a graded stakes race on the turf before, with one of them being my top selection No. 9 Diamond Oops (5-1). He's shown that he has a versatile running style by being able to either stalk or close from off the pace. He has four career turf starts with one first, one second and one third, but that lone win came right here at Churchill in this very race last September. Over the last year trainer, Patrick Biancone and jockey Florent Geroux have teamed up on 10 occasions, winning three times.
Given the pace scenario, the other horse I like in this spot is No. 8 Fast Boat (7-2). Trainer Joe Sharp is coming off an excellent meet at Keeneland where he won with 25% of his starters and Fast Boat has won two of his three starts over the turf course here at Churchill and eight of 22 overall on the turf.
Fast Boat comes in off a non-graded stakes win at Sam Houston back in January and has been training well leading up to this spot with both of his last two works being bullets. He gets Irad Ortiz Jr. in the irons which is a huge upgrade. Sharp and Irad have two wins in four tries together over the last 60 days.
You simply can't leave Irad off your ticket, especially on the turf.
Race 10 Bets: No. 9 Diamond Oops to win; Exacta Box: 8,9
_BookPromo=32
Race 11: The Kentucky Oaks
Post Time: 5:51 p.m. ET
Here it is, the Grade 1 Kentucky Oaks. This race is for three-year-old fillies and will be run at a mile and an eighth over the main track. I haven't been this excited for the Oaks in a number of years and you'll see why below.
The favorite is No. 10 Malathaat (5-2), who is coming in with an unblemished record for trainer Todd Pletcher, who is winning at a 23% clip off the layoff and 14% in graded stakes races.
Last out, Malathaat got up in the last couple of jumps to win the Ashland by a head. That was her first and only start as a three-year-old and she didn't have the jump in speed figures that I typically like to see from 2 to 3 (86 to 89).
While she hasn't done anything wrong, I don't love her value here. I'll be using her, but she's not my top pick.
No. 6 Travel Column (3-1) and No. 12 Search Results (3-1) are joint second-favorites on the morning line. Travel Column won the Grade 2 Fair Grounds Oaks last time in impressive fashion. She's trained by the red hot Brad Cox, who has won at a 30% clip in graded stakes races. Travel Column is also a perfect 2-for-2 over this track. She's one that you have to use and if we get 3-1 I will also make a win bet on her.
As far as Search Results, she's a perfect 3-for-3, but I question the competition she has faced up to this point. At a short price, I'm going to try and beat her in this spot.
Another horse that I'll be using is No. 3 Clairiere (5-1). She has two wins and two second-place finishes in four career starts. She has traded wins and second-place finishes with Travel Column throughout her career, so we know she belongs. Clairiere will also be getting a jockey upgrade to Tyler Gaffalione, which is another reason I'll be using her.
Now let's get to my top pick and why I'm so excited for this year's Oaks, No. 5 Pass the Champagne (15-1). You read that correctly, it's not a typo, Pass the Champagne is my top pick at 15-1 odds!
After breaking her maiden in late February, she came back to run in the Ashland last month at Keeneland. Coming out of the far turn she opened up on the field by four lengths only get to nipped at the wire by Malathaat. Pass the Champagne had to wait for some room and I wonder if jockey Javier Castellano didn't know how much speed she really had and asked her for that burst a little too soon.
With Castellano back aboard in this spot, he knows what he has with Pass the Champagne and if she gets the right trip she will light up the board at big odds.
Race 11 Bets: No. 5 Pass the Champagne to win; Exacta: 3,5,6/1,3,5,6,10,12; Trifecta: 3,5,6/1,3,5,6,10,12/1,3,5,6,10,12
_BookPromo=32